Our people make us.
We are very proud of the recognition that all these awards and accolades represent.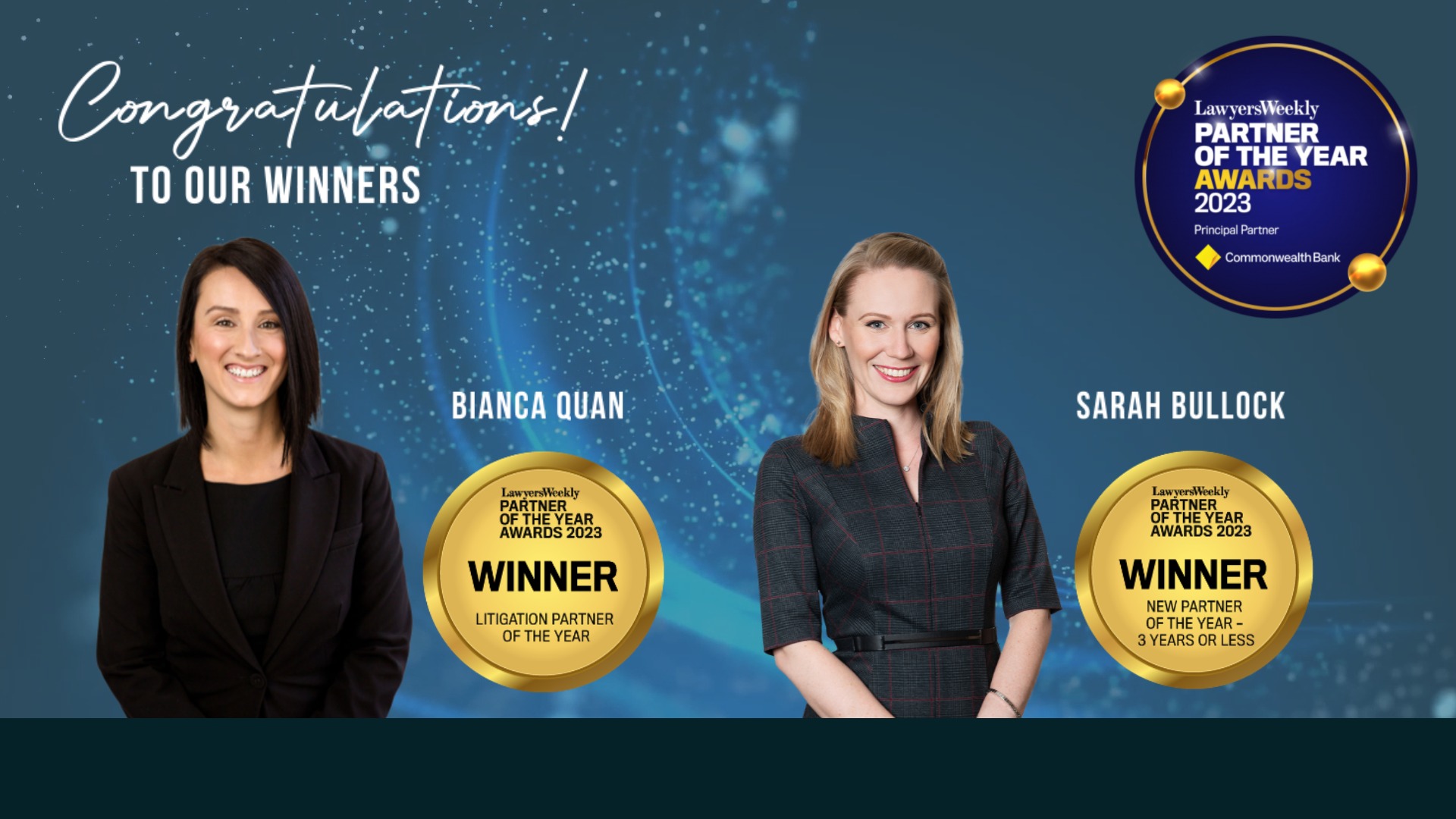 July 2023: Two of our Partners have been named winners in the 2023 Partner of the Year Awards!
Bianca Quan, Melbourne, has been named as Litigation Partner of the Year.
Sarah Bullock, Sydney, has been named New Partner of the Year (3 years or less).
June 2023: The Australian Law Awards finalists have been released, and Cornwalls has been named across five categories!
Congratulations to Jake Erman-Keogh, Ann Prineas, the Banking & Finance Team, and the Corporate & Commercial Team.
We've also been named a finalist for the Wellness Initiative of the Year for our implementation of the Sonder platform.
Winners will be announced at the gala event in Sydney on Friday 11 August.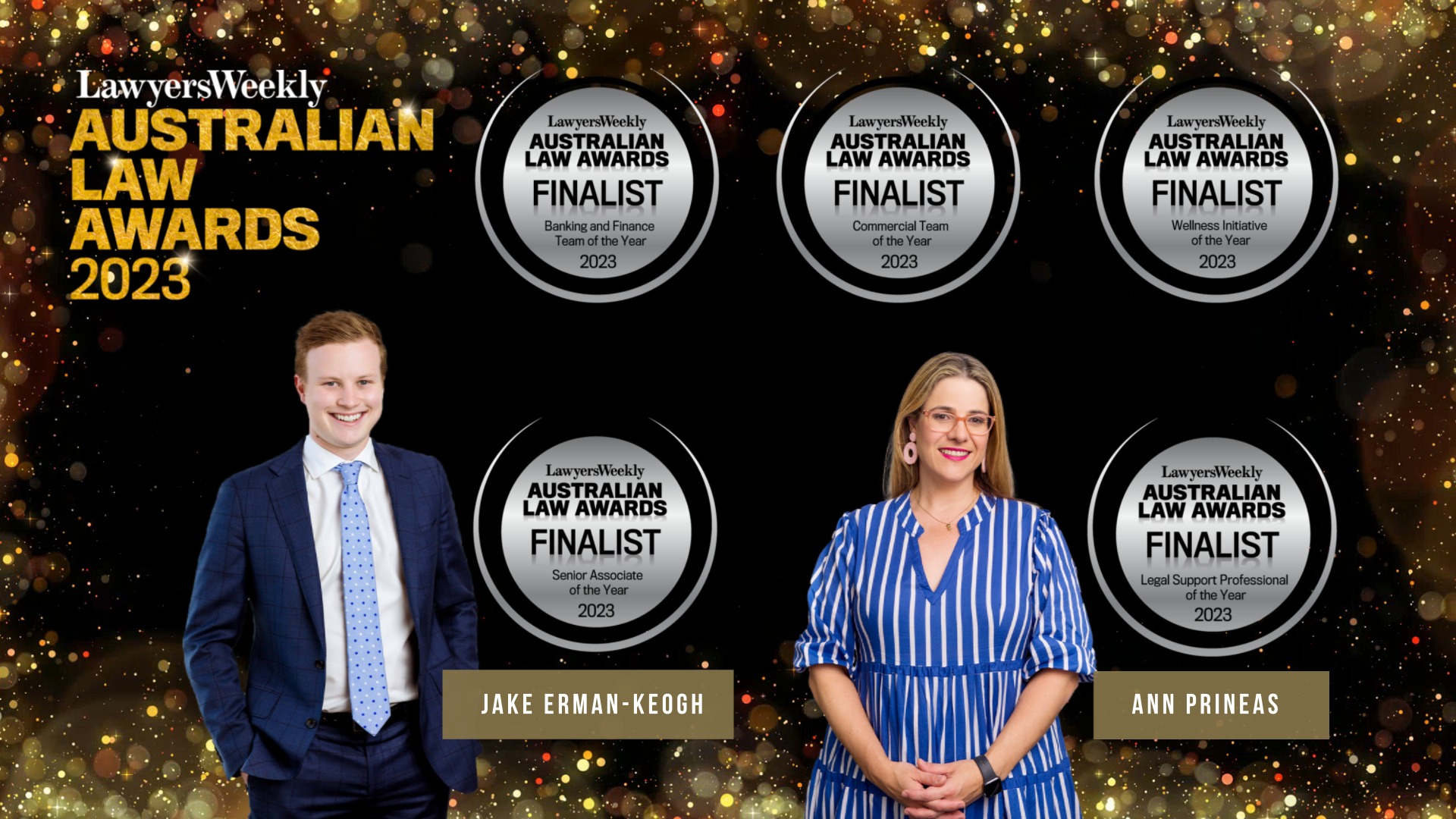 Lawyers Weekly Partner of the Year Awards 2023
Australasian Lawyer Rising Stars 2023
The Best Lawyers in Australia (2023 Edition)
Lawyers Weekly Australian Law Awards 2021
Lawyers Weekly Partner of the Year Awards 2021
Lawyers Weekly 30 Under 30 Awards 2021
Doyle's Guide 2021
The Best Lawyers in Australia (2022 Edition)
Lawyers Weekly Australian Law Awards 2020
Sarah Bullock, Senior Associate, Sydney – Senior Associate of the Year
Lawyers Weekly Women in Law Awards 2020
Sarah Bullock, Senior Associate, Sydney – Senior Associate of the Year
Lawyers Weekly Australian Law Awards 2023
Lawyers Weekly Partner of the Year Awards 2023
Lawyers Weekly 30 Under 30 Awards 2023
Australasian Law Awards 2022
Lawyers Weekly Women in Law Awards 2022
Lawyers Weekly Australian Law Awards 2022
Lawyers Weekly Partner of the Year Awards 2022
Lawyers Weekly 30 Under 30 Awards 2022
Australasian Law Awards 2021
Levent Shevki, CEO Melbourne – Law Firm Leader of the Year (>200 employees)
Lawyers Weekly Australian Law Awards 2021
Paul McCann, Partner, Sydney – Partner of the Year
Radhika Kanhai, Partner, Melbourne – Mentor of the Year
Glenn Hughes, Partner, Sydney – Mentor of the Year
Kylie May, Administration, Sydney – Legal Support Professional of the Year
Elleni Criticos, Lawyer, Sydney – Law Student of the Year
Banking & Finance Team of the Year
Commercial Team of the Year
Dispute Resolution Team of the Year
Transaction Team of the Year
Lawyers Weekly Partner of the Year Awards 2021
Paul McCann, Partner, Sydney – Dispute Resolution Partner of the Year
Glenn Hughes, Partner, Sydney – Commercial Partner of the Year and Corporate Partner of the Year
Brent Turnbull, Partner, Brisbane – Construction & Infrastructure Partner of the Year
Lawyers Weekly Women in Law Awards 2021
Angela Carrington, Legal Assistant, Melbourne – Legal Support Professional of the Year
Lawyers Weekly 30 Under 30 Awards 2021
Providing Quality Legal Expertise For National And International Clients
Our Vision
To be the best at all we do
Our Values
Clients are key
Our people make us
Take ownership
Team work
Work smarter