Introduction
Grata Flos Matilda Greig, known as Flos Greig, (Flos) was the first woman to be admitted to practice law in Australia. She was a true trailblazer in every sense of the word. After completing her articles of clerkship with Frank Cornwall in Melbourne in 1905, she continued her legal career with Cornwalls and went on to shape the future for women in law in Australia.
Today Cornwalls celebrates Flos through the Cornwalls FLOS program. The program honours and celebrates the firm's long and proud history of supporting women in their quest for gender equality in the legal profession, paying historical homage to the humble beginnings of alumni Flos Greig. She left an indelible mark on Cornwalls for the generations of lawyers who follow her through the doors of our firm. Flos lives on in our culture, with the firm continuing her work as a leading innovator in the legal sector.
Sponsorship

Cornwalls sponsorship has helped establish the Flos Greig Lectures over a five-year period in partnership with Melbourne Law School.
The inaugural lecture on 19 August 2022 was presented by Melbourne Lord Mayor Sally Capp, titled The new wave of women in politics: Extraordinary women shaping the future, exploring the rise of female voices in Australian politics and leadership.
You can watch the full lecture here.
2023 Flos Greig Public Lecture
The 2023 Flos Greig Lecture in Law on 2 August was presented by the former Chief Justice of Victoria, The Hon. Marilyn Warren AC KC, titled Women Making a Difference in the Law: Bridging the Gap Between Law and Life. This year's lecture focused on the positive impacts women have had on the industry and the steps we must take to ensure further encouragement of women in law.
You can watch the full lecture here.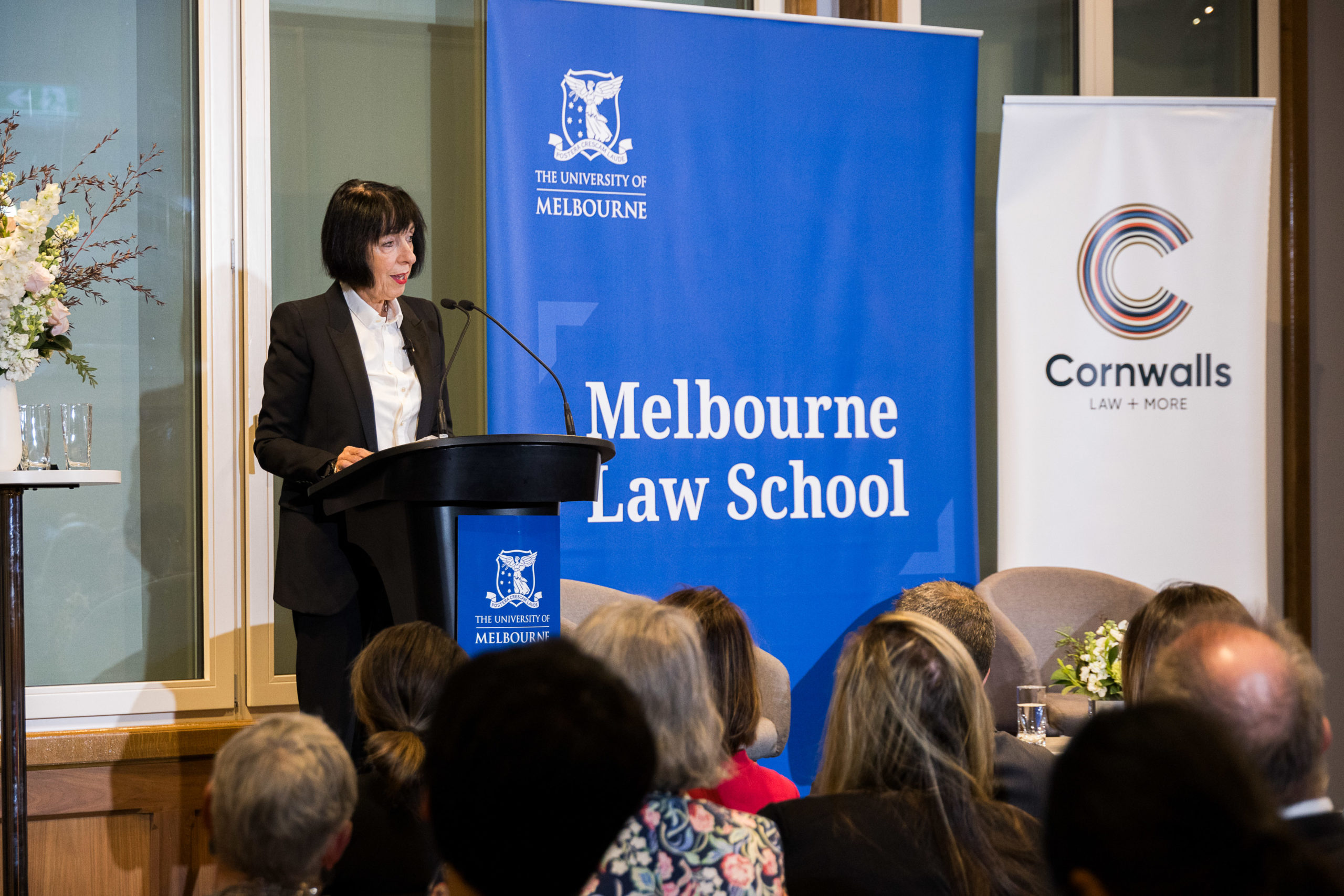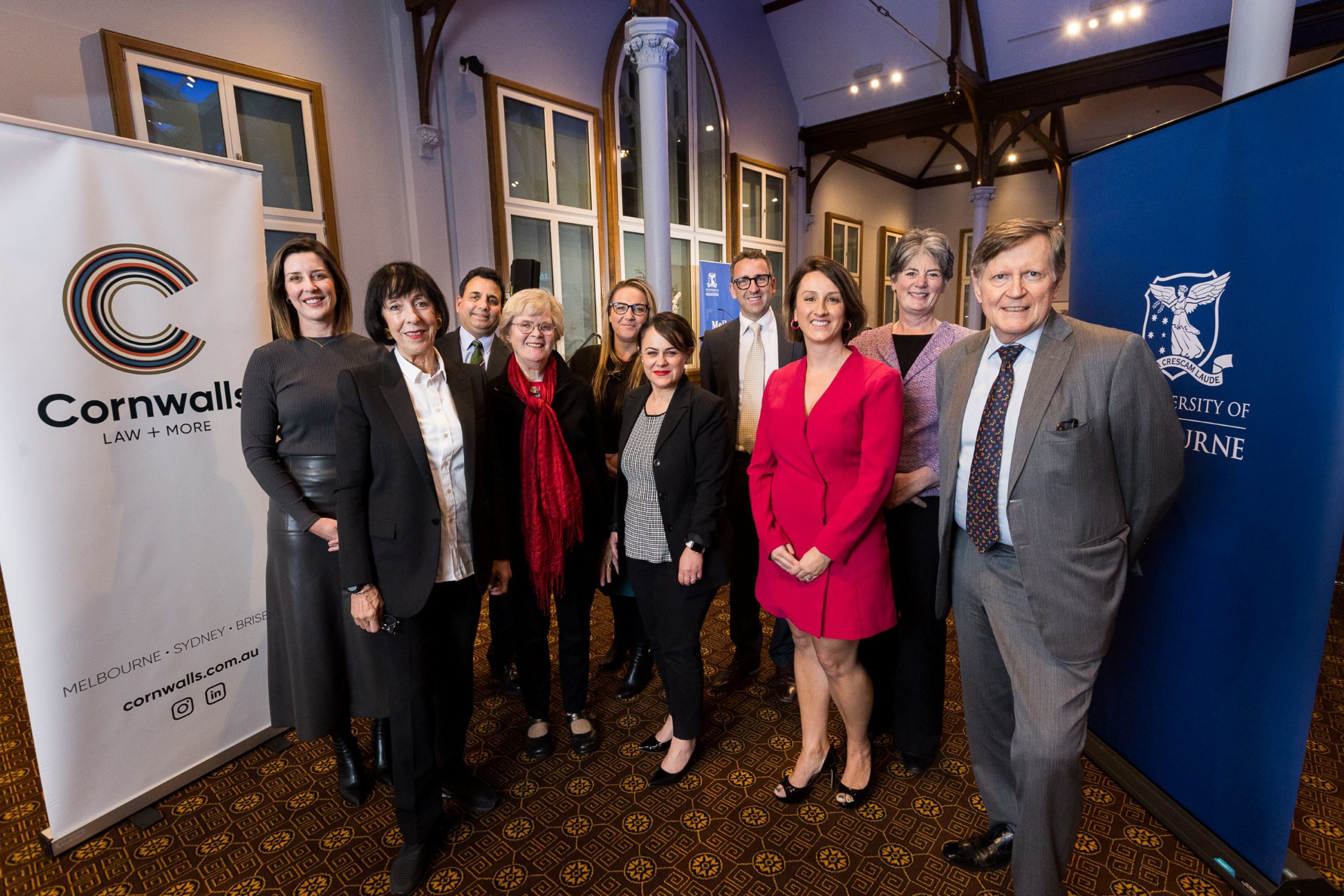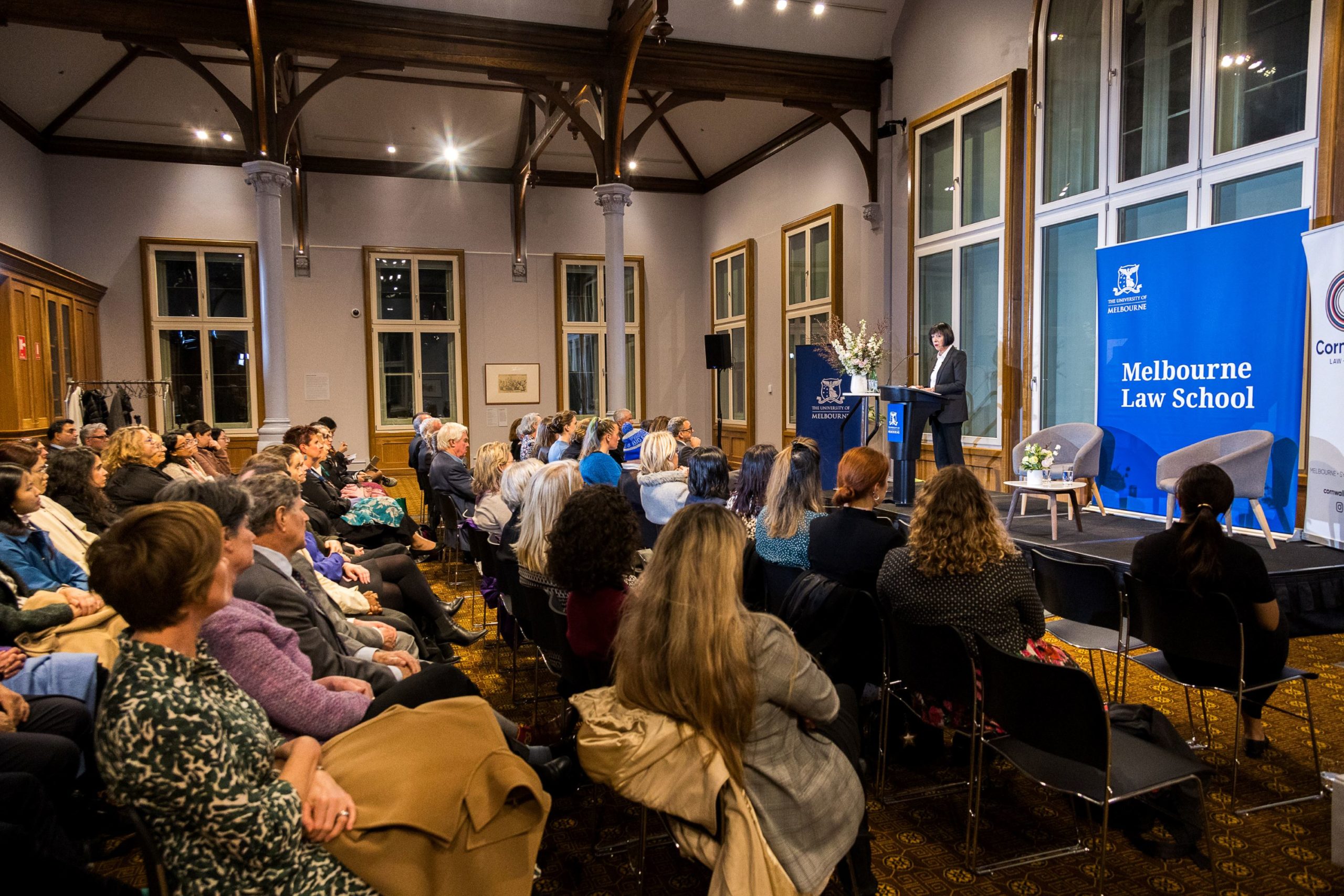 The Flos footprint; shaping Equity, Diversity & Inclusion
Cornwalls is committed to creating and maintaining an equitable, diverse and inclusive workforce that reflects our people, our clients, and our community. Our firm promotes gender equity and is about empowering our people by actively addressing barriers to gender equality, to create an inclusive culture for all persons. We recognise that we have a role in advocating for gender equality within the legal profession and for women and gender non-conforming individuals in the law.
Our FLOS Program committee supports the firm's standing as a gender-diverse and inclusive workplace. The group aims to provide a networking platform for all persons. It encourages collaboration, integration, and education, to foster the development and retention of women in law and to bring to the forefront issues affecting women, non-binary and gender non-conforming persons, and LGBTQI+ identifying persons in the legal profession.
A message from our FLOS Ambassador
"Alongside the FLOS Committee and my peers, I am proud and delighted to support the FLOS program and its initiatives.
Our vision for the program is to celebrate and engage people from all avenues of life to become trailblazers in their industries, not just in the legal space."
Bianca Quan, Partner
Flos Greig (1880–1958) was a pioneer for Australian female lawyers.
To be the first, Flos had to overcome extreme adversity.
Despite graduating from the University of Melbourne in 1903 with a Bachelor of Laws (LLB), and coming second in her year, at the time females were not allowed to be legal practitioners. She successfully campaigned with John Mackey MP and a University of Melbourne professor to allow women to enter the legal profession.
In April 1903, the Parliament of Victoria passed the Women's Disabilities Removal Act 1903 (Vic) which removed 'some anomalies in the law relating to women' and allowed women to practice law in Victoria. Special legislation was passed in the Victorian Parliament, and renamed the Legal Profession Practice Act 1903.
It stated, 'No person shall by reason of sex be deemed to be under any disability for admission to practice as a barrister and solicitor of the Supreme Court, any Law or usage to the contrary notwithstanding.' It was often fondly referred to as the Flos Greig Enabling Act.
At the time, no other state in Australia allowed a woman to practice law.
Upon graduating, Flos Greig said, 'Women are men's equals in every way and they are quite competent to hold their own in all spheres of life'.
She was ahead of her time.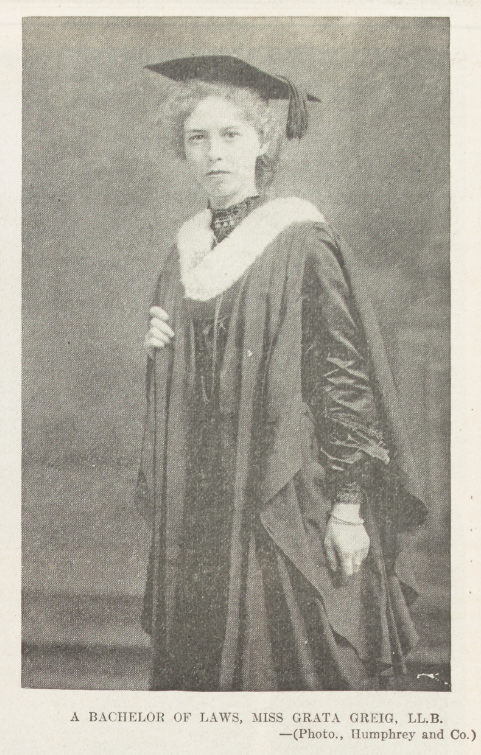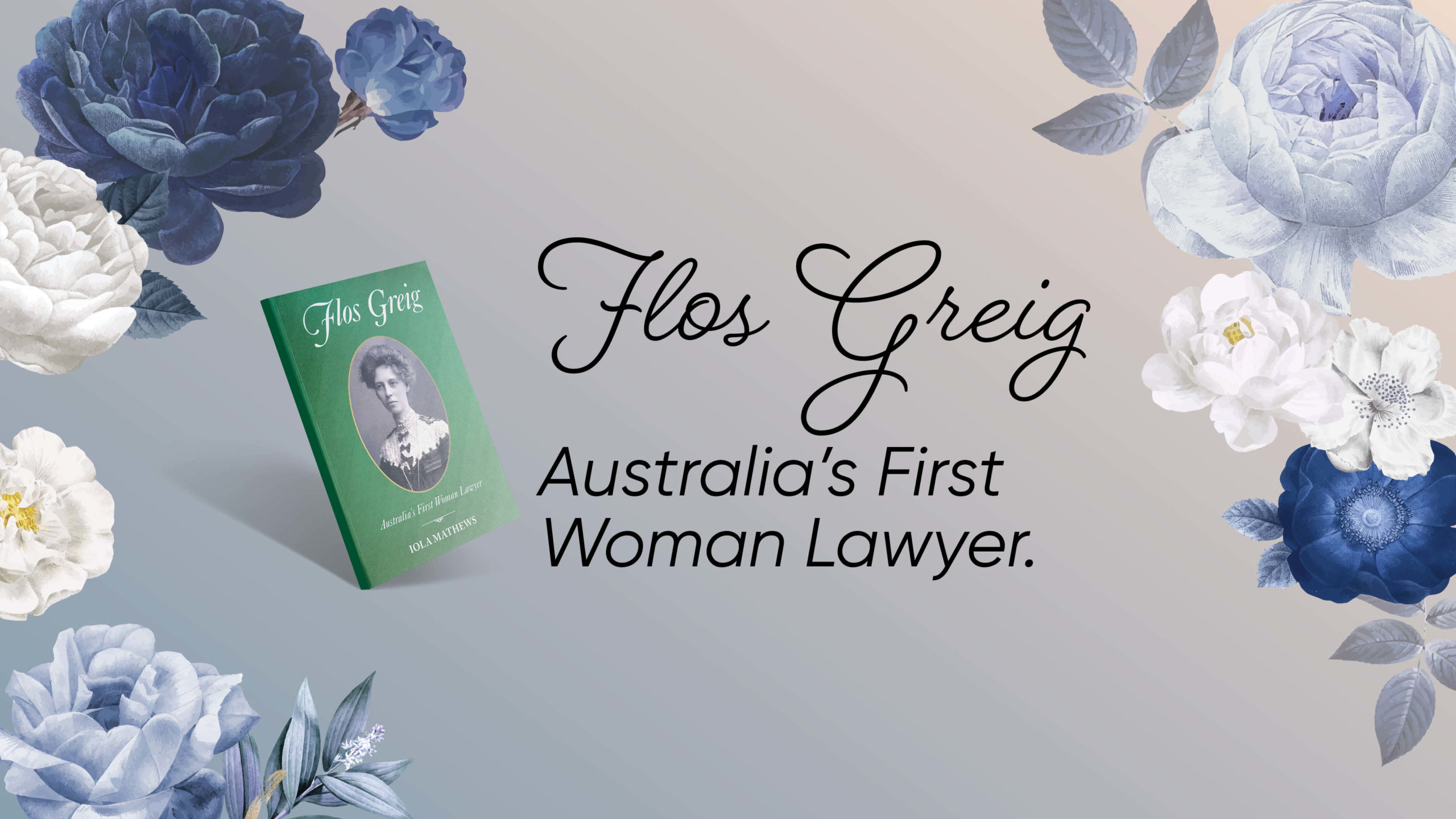 Read the Flos Greig story
Authored by Iola Mathews OAM, great-niece of Flos Greig, the book tells the remarkable story of Flos Greig, a true trailblazer in every sense of the word. Cornwalls has sponsored the publication of this book and we hope you enjoy discovering the incredible qualities and determination displayed by our alumni, Flos Greig.
Iola Mathews is a co-founder of the Women's Electoral Lobby and a former journalist at The Age. Later she worked at the ACTU as an industrial officer, specialising in women's employment, and was the advocate in the parental leave case and equal pay cases for childcare workers and clerical workers.
Iola is author of several books, including Winning for Women: A Personal Story. 
For enquiries and to purchase the book, click here.
RRP: $15.00
FLOS EVENTS GALLERY
You can find all images from FLOS events by clicking the button below.